Milky Way
Legend has it that in the 9th century the heavenly play of lights of the Milky Way led to the discovery of the tomb of the Apostle James. The location in the 'field of stars' (campus stellae in Latin) soon became one of the most important pilgrimage sites: Santiago de Compostela.
Murderous highwaymen and false confessors, maids who approach pilgrims' beds at night at the Devil's behest, but also amazing events and manifold miracles are related in Europe's oldest travel guide: the 12th-century Liber Sancti Jacobi, or Book of Saint James. Back then pilgrims hoped for the forgiveness of their sins, the curing of any disease or divine deliverance from a hopeless situation. Nowadays the vast majority of visitors undertake the journey to the City of St. James for far less pious reasons: sporting ambition, tourist interest or the pursuit of happiness and self-discovery. Not infrequently, the pilgrim's certificate is also enclosed with application documents demonstrating social and spiritual skills.
For his Milky Way project, Robert Rutöd went where the 'sun dies' and, according to medieval thinking, the end of the world was located. The resulting photographs are like stills from a bizarre, poetic road movie: the lone pilgrim pursued by a zealous street vendor with his complete range of walking sticks; the taxi driver who, rather than a picture of a loved one, adorns his sun visor with a picture of a mighty bull; the audience in a strange, expectant emptiness, staring at a text on the wall – Next projection 00:00.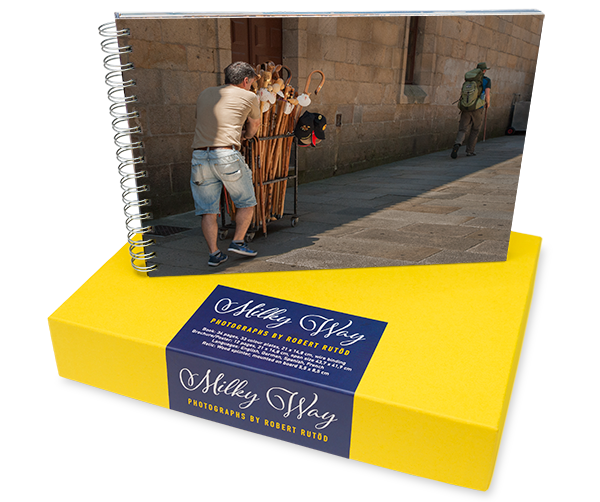 The book Milk Way comes in a box with a
12 pages broschure/poster and a relic from a late medieval torture device


"Inspired by the Luis Buñuel film of the same name, I have long been fascinated with a journey to Santiago de Compostela. When asked where the Way of St. James begins, in Spain they say: El camino comienza en su casa – The trail begins in your home. That suited me fine. So we got into our old Passat and drove off.
With this, we also lost our chance to receive the so-called Compostela – a certificate confirming successful completion of the pilgrimage – on arrival. Only those who travel to Santiago on foot, by horse or donkey, or cycle are regarded as official pilgrims on the Way of St. James. I wouldn't expect any horse or donkey, and certainly not my legs, to endure the 6,000 km that lay ahead of us.
Traveling as unofficial pilgrims, without the pilgrim's pass and without any higher purpose – apart from the quest for exciting photographic depictions of everyday life – we returned to our starting point, Vienna, five weeks later. The journey was the reward ;-)"